A volunteer organization dedicated to saving lives through search, rescue, and mountain safety education.
Central Washington Mountain Rescue has been active in Yakima since the late 1940's. Our unit consists of a dedicated group of mountaineers who have seldom sought publicity for their activities, but have always been available to leave the comfort of their homes to help bring back those who have gotten in trouble in the mountains of the world. Throughout the years our unit has participated in missions ranging from plane crashes and natural disasters, to lost and/or injured children, hikers, mountain climbers, and hunters.
We are trained to respond locally, nationally, and internationally. Our members have participated in rescues as far away as Alaska and Northeast Canada and have trained with Mountain Rescue personnel throughout the U.S. as well as in Canada and Mexico. Our volunteer members come from all walks of life and are prepared to respond any time of any day, wherever the need arises. Whatever the mission, there will be members leaving work, recreation or home and family to respond.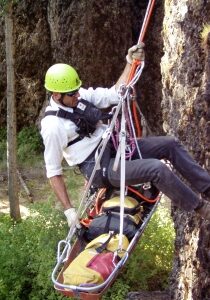 Our work has been totally volunteer, financed by a low key request for donations from an equally dedicated group of supporters, primarily in the Yakima Valley. A truck for hauling equipment, ropes, some technical and medical equipment, radios and a couple of litters have been financed by donations. The rest comes out of the members pockets. Each member has personal climbing and rescue equipment often costing $2,000-3,000 or more. This equipment is used for the benefit of helping those who become lost or injured while in the mountains.
Our greatest reward is the knowledge that there are many people alive today who would not have survived without the timely assistance of our efforts. Our unit has been recognized by a plaque from the governor for life saving, one from the Eagles, a couple of commendations to members from the Army MAST commander, and letters of praise from the local Sheriff's office to several of our members.
If you have any comments, questions, or would like to become a financial supporter, we would really appreciate hearing from you! All contributions are tax deductible.