A volunteer organization dedicated to saving lives through search, rescue, and mountain safety education.
BMC 2022 registration is OPEN
We look forward to learning with you!
Please email

bmc

@cwmr.org with any questions.
The Basic Mountaineering Course (BMC) is offered by Central Washington Mountain Rescue (CWMR) as a community education service.
The CWMR BMC prepares students with foundational mountaineering knowledge, skills, and values for safe basic climbing. Students will learn about climbing and safety equipment, risk and hazard evaluation, and physiological needs of the climber. Basic through easy Class 5 rock climbing, belaying, and rappelling will be covered. Safe methods of snow travel, glacier travel, and crevasse rescue techniques will also be learned.
REGISTRATION:
Step 1) Submit online application https://forms.gle/64ARSXzBRTUw9oMw7 
Step 2) DO NOT PAY YET - Receive confirmation email from bmc@cwmr.org (to assure space is available)
Step 3) After receiving confirmation email, then submit $250 recovery fee/donation https://cwmr.org/donate/
Note: Registration is not complete until the confirmation email is received AND the $250 recovery fee/donation is paid. Space is limited. Spaces will be held in the order registrations are received WITH payment. Applications without a paid fee will be placed on the waiting list.
BMC is a community education service and fundraiser for CWMR. If you have extenuating financial difficulties, please email bmc@cwmr.org. Possible accommodation will be considered on a case-by-case basis.
REFUNDS:
Full refund 7 days before start of class.
Half refund within 24 hours after the first class.
No refund for withdrawal or no-show 24+ hours after first class.
WAITLIST:
Applications without a paid fee and/or those who submit an application after initial slots have filled will be placed on the waiting list.
Any remaining open spots will be offered in order of received applications beginning Fri Mar 11. Applicants will be alerted by email. Waitlisted openings must be confirmed by payment. Responses not received within 24 hours will be offered in order to the next applicant on the waitlist.
There is the possibility of additional openings until 6:00 PM Tue Mar 29 (24 hours after Class 01) because of refunded withdrawals.
REQUIREMENTS:
No prior climbing experience is required.
For students <18 years of age:

Students must be 15 years of age or older by the date of the first class.
Students under 18 years of age must enroll in the class with an enrolled parent or legal guardian.
Parent/legal guardian must attend all activities and classes that the teen attends.

General physical fitness

that includes the ability to carry a pack of 25 lbs or more uphill through 1,000 feet of elevation gain over uneven, rocky, and snowy terrain in an hour or less, to be demonstrated any time prior to participation in the Glacier Travel field session in June (at Snow field session or on an approved hike).

Essential personal gear

: backpack, water-resistant boots, water bottle, rain shell, firestarter/matches, whistle, first aid kit, pocket knife/multi-tool, headlamp, sun protection, synthetic or wool clothing. Information and details to be provided during class.

We do not recommend making any gear purchases before BMC begins. Equipment can be borrowed. Instructors are more than willing to provide insight and advice about gear purchases.

All necessary technical gear is provided
Complete required readings
Active participation in all class and field sessions
Transportation to all sessions (carpooling coordination available)
ATTENDANCE:
Not being able to participate in some classes or sessions doesn't exclude one from participating in other components. Perfect attendance is not technically "required" since the class is a community service and does not provide a certification. However, there is an objective restriction that students must be "glacier ready" for the Glacier Day field session by demonstrating fitness and technical competence, which is done through demonstrated fitness and competence at Franklin Park and Snow Day field sessions, or on a case-by-case basis.
REQUIRED TEXTBOOK:
Mountaineering: Freedom of the Hills, 9th Edition, by the Mountaineers and Ronald C. Eng
https://smile.amazon.com/Mountaineering-Freedom-Hills-Mountaineers/dp/1680510045/
A compass is also required (and part of your 10 essentials!). We strongly recommend an adjustable declination compass:
https://smile.amazon.com/Silva-Explorer-Pro-Compass/dp/B079XVHJ2Q
https://smile.amazon.com/Suunto-SS021369000-M-3nh-Leader-Compass/dp/B00XANJRHG
CLASSROOM SESSIONS:
Mondays 6:00-8:30 P.M.
Mar 28; Apr 04, 11, 18, 25; May 02, 09
Zoom (link will be provided)
FIELD SESSIONS:
Sat Apr 16

 - NAVIGATION

9:00AM - 1:00PM - drop-in only if necessary 
Uplands Cowiche Canyon, 8905 Scenic Dr, Yakima (46.6110, -120.6256)

Wed Apr 13 to Wed May 04

 - ROCK SKILLS

At least one required
5:30-8:00PM/dark - drop-in, but arrive as early as possible to have enough time
Wilridge Winery, 250 Ehler Rd, Yakima (46.6237, -120.6265)

Thu Apr 21 & 28

 – SNOW & GLACIER SKILLS (#1: Self-rescue, passing pro, etc.; #2 Team Rescue)

5:30-8:00PM/dark - drop-in only if necessary 
Franklin Park (North end), ~2000 Chestnut Ave, Yakima (46.5961, -120.5353)

Sat May 07

 – SNOW DAY

TBD ~8:00AM-1:00PM - no drop-in
White Pass Ski Resort, 48935 US-12, Naches (46.6383, -121.3902)

Mon May 23

 - FINAL SKILLS TEST & KNOWLEDG TEST

6:00-8:30PM - drop-in only if necessary
Chesterley Park, central covered shelter (parking on N/NW near aquatic center), ~3700 River Rd, Yakima

Sat Jun 18 (could change depending on snow conditions)

 – GLACIER DAY

TBD ~8:00AM-3:00PM - no drop-in
Paradise, Mt. Rainier NP (46.7857, -121.73540)
QUESTIONS:
Daniel Mick - BMC Coordinator
bmc@cwmr.org
503-954-6699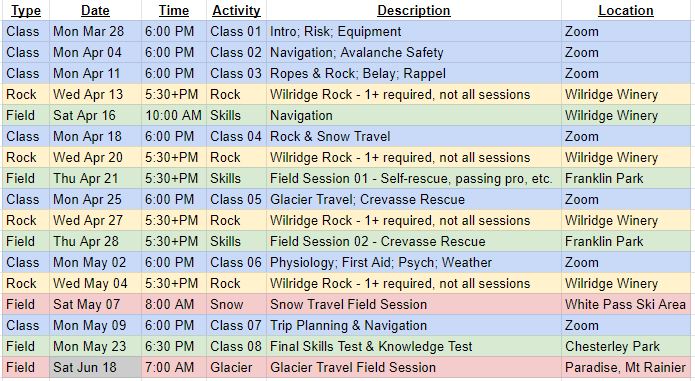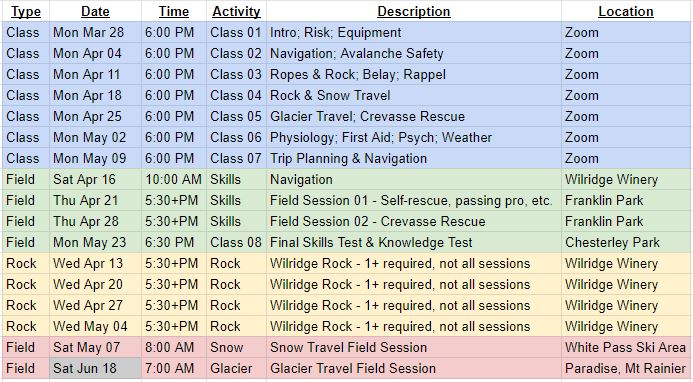 BMC+SAR 2022 Schedule (SAR Students Only)